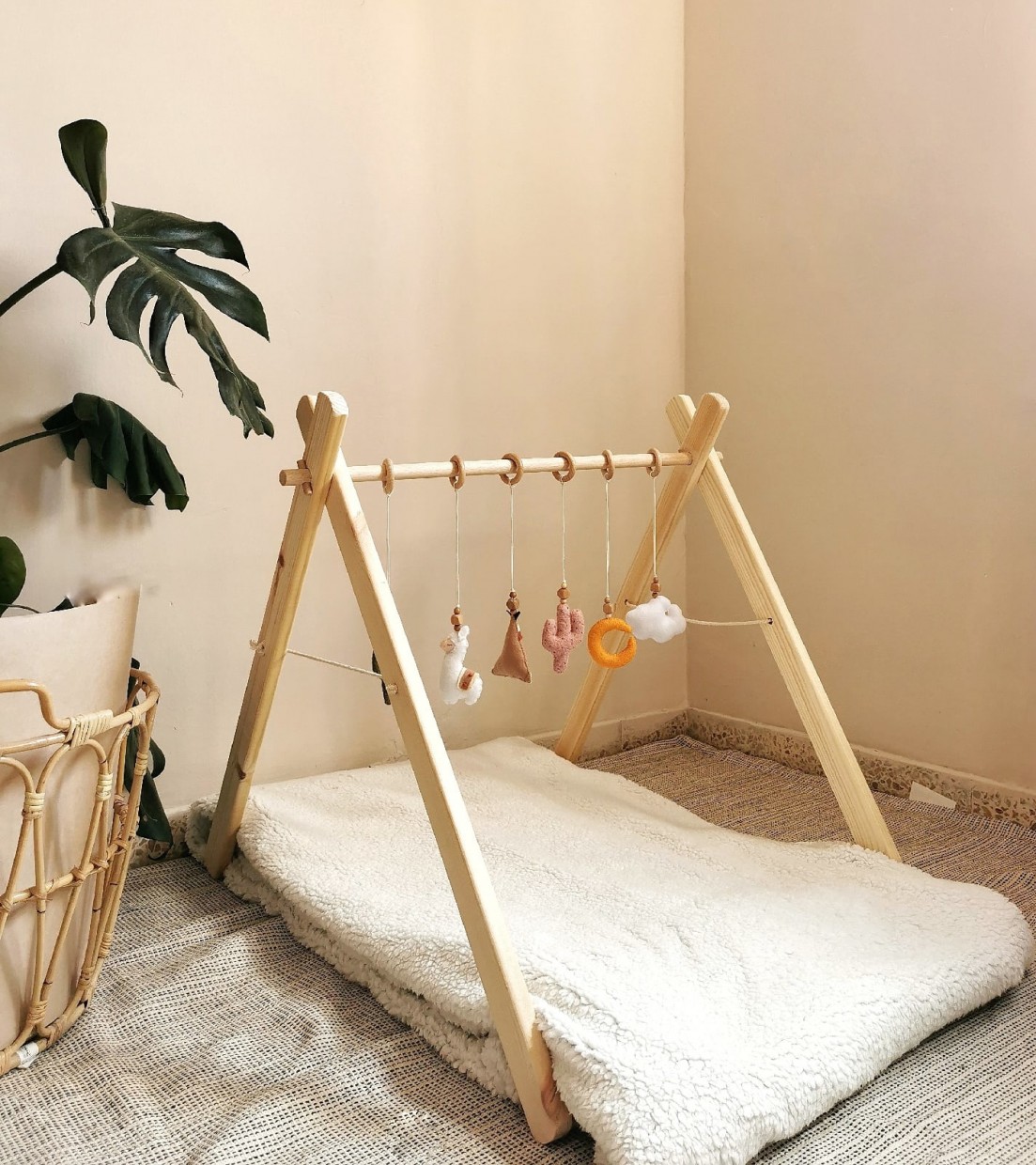 Universal handmade baby play gym made of wood rounded corners and polished surface will protect your baby. With the help of cotton cords, you can adjust the height of the gym. The baby play gym is completely disassembled so it is very convenient to store or transport it. When the baby grows up, he begins to use this products as an emphasis when getting up. Without toys!
Fits in a standard crib 60 cm wide .
The maximum height is 65 cm .

Thanks to its concise design, it will fit into any interior. It unfolds and folds in an instant - just pick it up and spread its legs, put it over the baby and he will immediately switch his attention to the toys swaying in front of him. When folded, it takes up almost no space, it can be placed between the wall and the crib, just lean against the wall or put under the crib. Above the baby, it is best to put the baby gym so that the toys are not directly above his head, but somewhere at the level of the tummy, then the baby will be as comfortable as possible to look at the pendants.⠀⠀⠀⠀⠀⠀⠀⠀⠀⠀⠀⠀⠀⠀⠀⠀⠀⠀⠀⠀ Our wooden stand with toys develops :
1. Visual coordination. The kid learns to follow and keep his eyes on the objects in front of him.
2. Physical coordination. Tries to hit the toys with a hands and grab them, developing grasping skills.
3. Fine motor skills. Give the baby a pendant in the handles so that he can play with the beads with his fingers.
4. Stimulates the baby's senses. soft and warm texture of wood for small hands.
5. Muscles. The baby trains the neck muscles, turning his head to one suspension, then to the other. Develops small hands, grabbing and moving the suspension, "swings the press" and leg muscles, trying to reach the toys with their legs.

Related Products