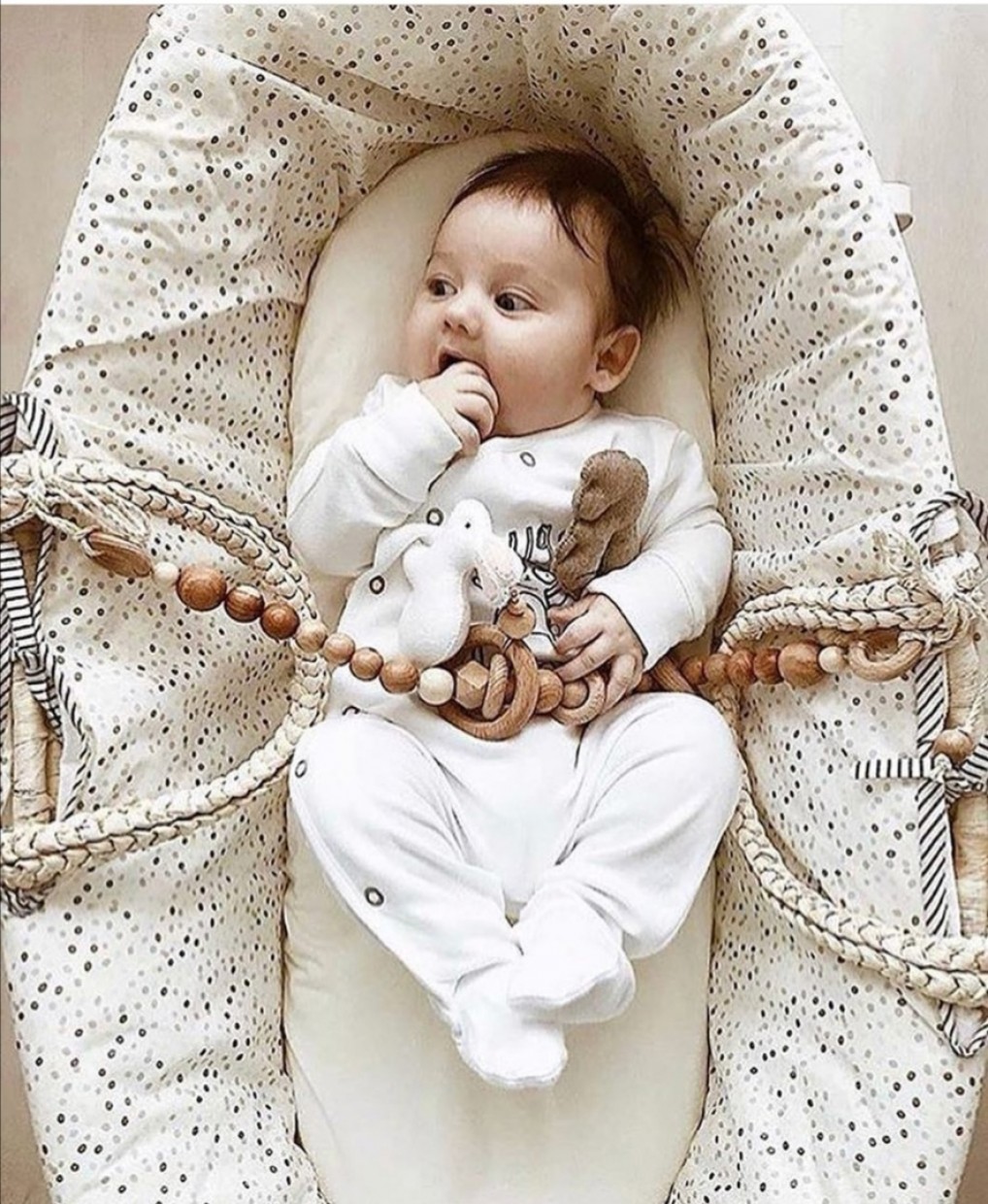 The garland for a baby crib / stroller is made of polished juniper of various shapes and structures , which develop fine motor skills of children's hands, which positively affects the development of neural connections of the baby's brain. This toy can be chewed , touched, pulled, and studied .
Juniper fragrance:
- has an antibacterial effect
- improves blood circulation,
- increases immunity,
- soothing,
- cures insomnia,
- helps with stress
- helps with bronchopulmonary diseases
- has bactericidal, antiseptic properties.
Teethers with felt toys and rattles that are put on the product will also be an ideal addition to such garlands.
Thus, you will get a tactile mobile that can be attached to both a baby cot and a stroller with toys develops :
1. Visual coordination. The kid learns to follow and keep his eyes on the objects in front of him.
2. Physical coordination. Tries to hit the toys with a hands and grab them, developing grasping skills.
3. Fine motor skills. Give the baby a pendant in the handles so that he can play with the beads with his fingers.
4. Stimulates the child's senses. soft and warm wood texture for small hands.
5. Muscles. Kid trains the muscles of the neck, turning her head from one suspension, and then the other. Develops small hands, grabbing and moving the suspension, "swings the press" and leg muscles, trying to reach the toy with his feet.
The kit includes 2 additional fasteners (clips) .

Toys are not included in the price of the garland

Length 43-44cm (16,9-17,3 inch)+ 40cm (15.7 inch )cord on each side
total length 123-124 cm (48.4-48.8 inch )
Beads for Cribs Strollers "The Adam"
Related Products